Here's an interesting website to try:
Where Is My Milk From?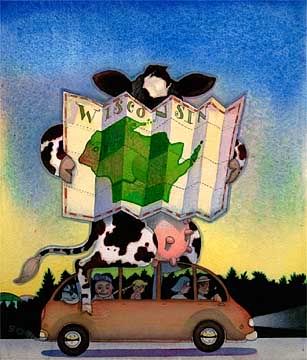 Just enter the numerical code from the carton of milk in your fridge, and this site will identify the dairy and location where it was produced. See the "18-1000" part? That is the code. 18 designates the state, 1000 designates the dairy.
For a lark, I entered the 2 containers in my fridge - 1 organic, 1 not.
Not Organic: locally produced about 40 miles from me.
Organic: Littleton, CO.
Seriously? My organic milk traveled several thousand miles to get to me? I find that hard to believe - but the code on the carton was very clear - Colorado. Not exactly "eating green" IMO.
I've identified the code for my state, and I think I'll be looking for that from now on...
Interesting site.